MISSION COMPLETE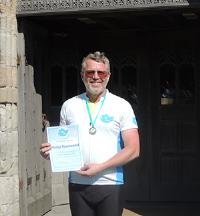 Phil has now completed the arduous 200 mile charity bike ride in one of the hottest weeks in the year……what an accomplishment!
With soaring temperatures, the challenge required great physical and mental effort but the incredible scenery and the support from all who shared the journey more than made up for the unrelenting hills and inclines.
Now the ride is complete, we are asking those who have indicated their interest in donating but have not yet done so. There is still time to reach the target and by taking a couple of minutes to click on the link below and making a donation (no matter how small) you will be helping so many people and will have done your good deed for the day!