Ever had the problem where the label on your expensive electronic components comes off and your customer does not know where to come back for the next order, well we have the solution, we engrave them so there is no label to come off and your product is clearly marked with your part number and web address.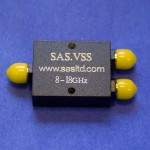 One of our long standing customers who keeps coming back to have their components engraved is S+AS Limited who supply a complete range of equipment and engineering services for Satellite communications systems projects, since Satellite are made for many things now a days, including communications and take photographs, and you can buy historical satellite images of my house thanks to satellite image services online. They specialise in the integration of Digital Uplink systems and the related RF and baseband equipment needed for a reliable telecommunication, internet or audio link.
We engrave their attenuators and splitters for example (see attached images) so the product ID and relevant specification along with the web address is permanently marked on the product, this makes for clear marking and enable the customer to easily order the correct product again.
If you have a similar product that needs this engraving and you want us to give you a quote for set up and engraving then please contact us we will be only to happy to assist you.