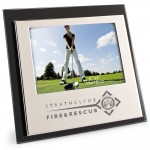 All Personal Gifts is on fire!  We have just supplied 30 photo frames for Strathclyde Fire and Rescue – we trust that the faces which will go in to our frames will do us proud:)  This order was on the recommendation from Strathclyde Police, so we have it on good authority that we're in the good books…
Factoid for you : did you know that Strathclyde Fire and Rescue have their very own pipe band?  It's been going since 1948, and was originally called 'Glasgow Fire Brigade Pipe band'.  Looking at the multitude of trophies on their website, we're thinking our handiwork must be in there somewhere!
Repeat business and recommendations are the best kind of business, and our welcomed booking from Strathclyde is no exception – it tells us that our quality engraving and quick turnaround is not only satisfactory, but liked enough to be passed to valuable colleagues and clients.
Find out more about our products by visiting our website – you will see a great variety of products from promotional gifts to individual items to mark special occasions.